Kinderland Serangoon [PRESCHOOL]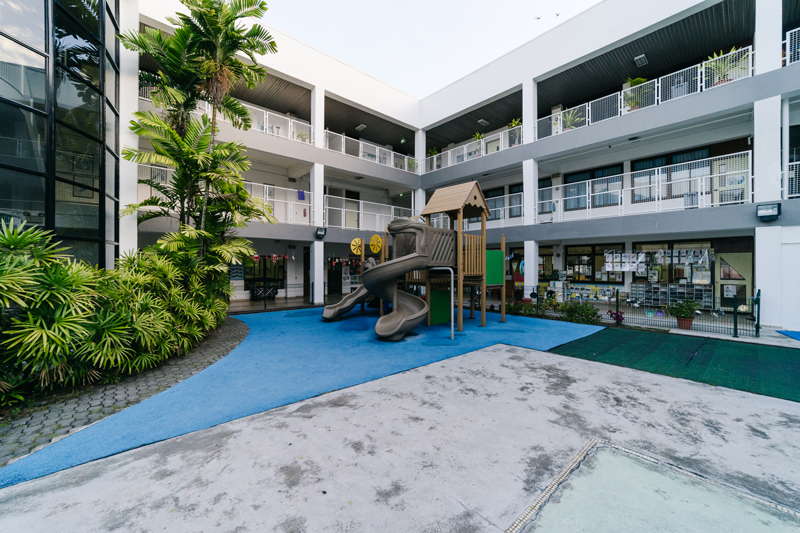 Unique learning environment with rich outdoor experiences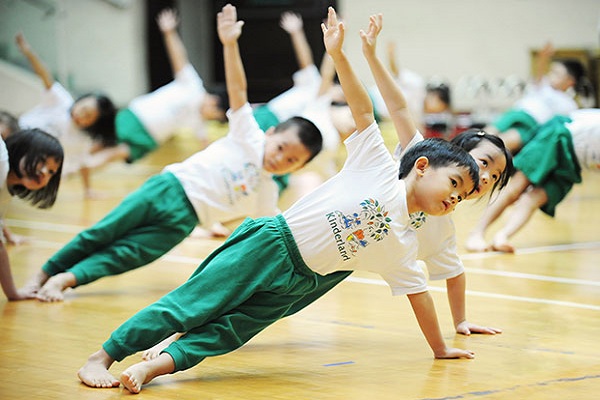 Large indoor space is well-suited for conducting KinderFit lessons on cardio-wellness & movement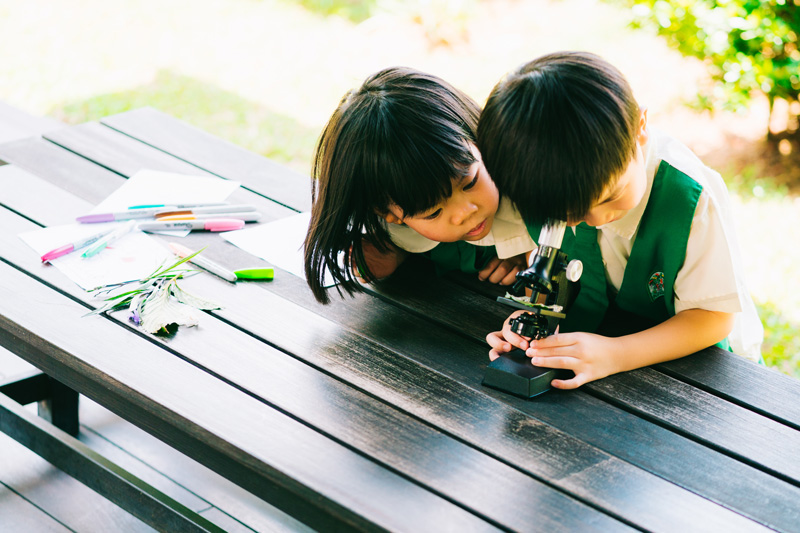 Well-researched curriculum inspires critical thinking and curiosity for Maths and Science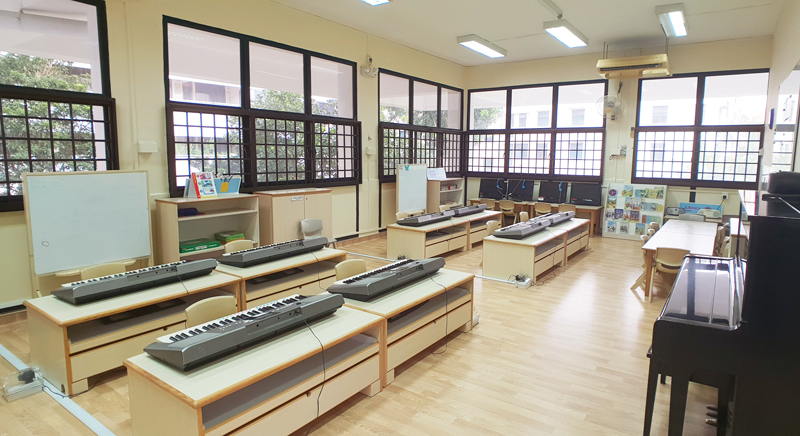 Learn keyboard music beneficial for advancing cognitive development from professional music teachers
*Kinderland @ Serangoon will relocate after 31 December 2020. Stay tuned to our website for more information on the new site location.
A stone's throw away from Serangoon MRT station, Kinderland @ Serangoon is connected to the MRT station by an underpass. There is a large outdoor area within the school compound, which contains an outdoor playground and garden.
Water play facilities are available too, offering children a great early start to learning through fun hands-on play. Water play activities not only stimulate creativity and imagination; there are also many opportunities for children to develop gross and fine motor skills across the age ranges.
Within the school itself, there is a large indoor activity area, suitable for running the KinderFit programme and enrichment programmes like Rhythmic Gymnastics.
An array of educare options such as full-day and half-day childcare as well as 3h flexi-care sessions are available.
Location Information
Address
:
587 Upper Serangoon Road,
Singapore 534564
Contact
:
6881 8818
Email
:
Please click here
Outdoor Areas
:
Water play, Playground
Operating Hours
:
Mondays to Fridays – 8.00am to 5.30pm
Programmes
Programmes
Child Care and Flexi Care
Sessions
:
Half day, Full day (Child Care)
3h (Flexi Care) – 8.00am to 11.00am or 11.30am to 2.30pm
Level
:
Pre-Nursery, Nursery and Kindergarten
Age Group
:
18 months to 6 years old
Enrichment Courses
1) Chinese Immersion Programme (for K1 and K2 students)
2) JACPA Rhythmic Gymnastic (for girls only)
Dear Principal, All Teachers and Non-Teaching Staff @ Kinderland Serangoon,

Thank you for all your care shown and love showered on both girls over the past 6 years, witnessing their growth and milestones at different stages. Not forgetting, the lovely cooks who prepared healthy and delicious lunch for them daily, and friendly Angie who is ever ready to take on our queries.

Thank you all and Happy Teachers' Day! :)
Thank you for the dedication that you have the kids. It's not easy to even look after 1-2kids and you guys have to manage so many of them. Andrew speaks so well of you guys. So thank you for teaching him so well.
Thank You Ms Huda and Zhen Laoshi for your dedication and patience in nurturing Adelle. Adelle looks forward to school everyday.
Special mention to Ms Huda who taught my elder daughter in 2017 and prepared her well for her transition to primary school journey.
Not forgetting all the teachers in Kinderland @ Serangoon who portrayed great team spirit and worked well together to care for all the students' well-being.
Wishing Ms Huda, Zhen Laoshi and all teachers here a Happy Teacher's Day!
It takes a village to grow a child. So we thank you very much for helping us in this role of nurturing and educating our son, Franco. He is growing up to be a happy kid and always the eager learner. :)
Many thanks to Rei Hon's teachers for the patience showered upon him which must have been a mountain-load because at home, his handfulness and stubbornness earned him the nickname 'Honligan'. He looks forward to school everyday and would sing a lot of songs at home which he must have learned in school. As working parents, we are very assured he is in good hands with caring teachers to mould him into a kind and spirited boy.
Many thanks to ReiYee's teachers for all the patience and nurturing that enabled her to blossom significantly, especially in recent months. She looks forward to school everyday and often speaks about what she has learned in school. It is very heartening to know she's in good hands and learning good values when us parents are at work!
Dear Teachers & Staff at Kinderland (Serangoon),

Happy Teachers' Day!

Edwin enjoys school but has had a challenging time adjusting to childcare. I'm grateful for the patience, time & dedication given to him.

Thank you for nurturing Edwin!

Regards,
Edwin's Mummy
Dear Teachers of Curious 1(Ms Huda, Ms Tee, Ms Zynn, Josin),
Thank you for helping Emily to settle in school. She enjoys school a lot and always comes back to tell us how she loves her teachers and friends. Thank u for your hard work and heart work! Have a Happy Teachers' Day!

Love,
Emily and Family
Thanks to all staff for the effort put in. Please take care and stay safe. Adelle does hope to be back in school again. 😊
Dear Melissa and all teachers, thanks for your great effort and time preparing the online class. It's a good initiative and Nathan enjoyed the lesson today with his classmates and Ms Huda ❤
Dear Ms Melissa, We sincerely thank all the Teachers in Kinderland for all the hard work and for looking after the children's well-being during this period. Stay safe.
Thank you for the hard work, Teachers. Jia you!
Hi Melissa, thank you for arranging the session. I think you guys did a great job as a first timer and will improve.

For kids their age, it's not easy to control regardless of the crowd.

Just to share, last week Iris attended a zoom session of an external enrichment programme for 5 kids and the response was not great and ended up seeming like the parents were answering more than the kids.

For kids this age, can explore using gestures to know if they are understanding. E.g. nodding, shaking their head, raise their hands etc.
Please convey to Ephraim and Elliott's teachers that they are doing a wonderful job! Not easy to retain the attention of the young ones! 😄

Thank you.
We look forward to e-lesson every day.
We can see our friends and learn something that is different.
It is so easy to have a dedicated time to sing together, read together and to interact with our teachers.

It also gives mommy a short break to prepare lunch. hahaha

Thanks once again and we are praying that you all stay safe at home as well.
Hi Melissa, Thea has really enjoyed HBL, including the chance to see and interact with her classmates. She also felt like a 'big girl' having meetings online like her older Primary school sisters. From a parent's point of view, HBL went very smoothly. It was a great chance to be a fly on the wall and see Thea in action in class. Thanks to all the Teachers, who made sure everybody got a chance to answer questions or annotate on the screen.