Kinderland Yio Chu Kang [Preschool & Infant]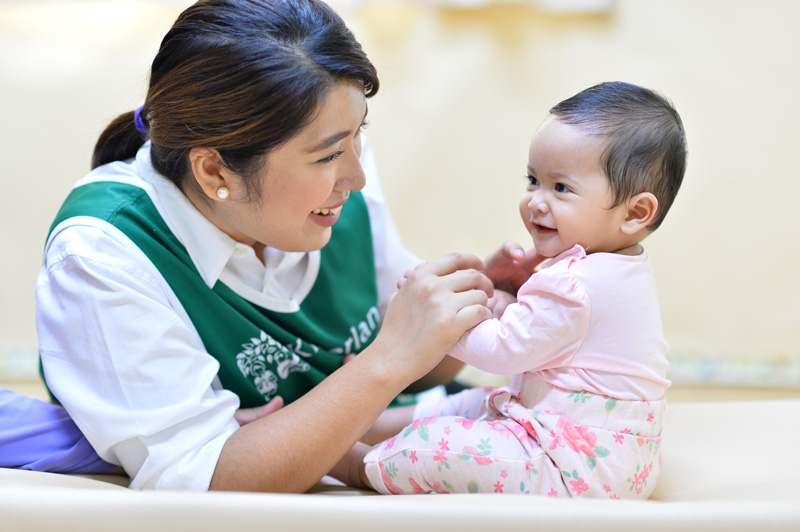 Infant Care - Warm, secure and responsive environment for your baby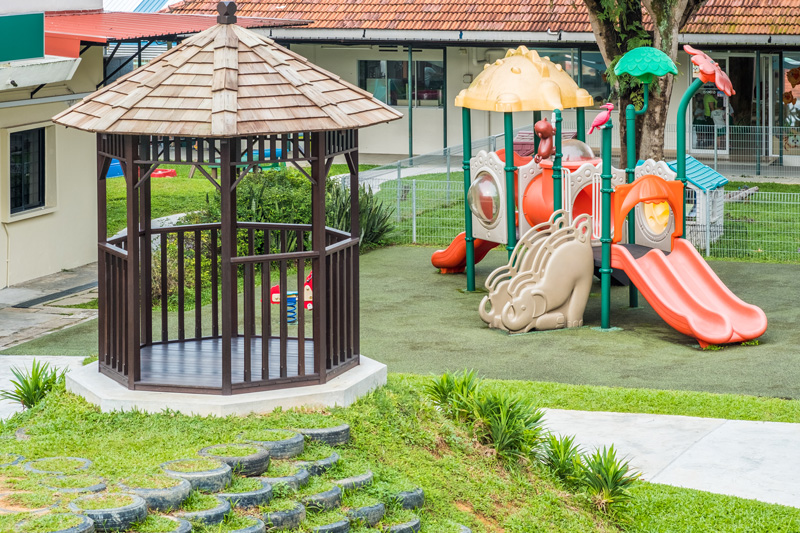 Spacious outdoor area allowing safe exploration by our children while they learn about nature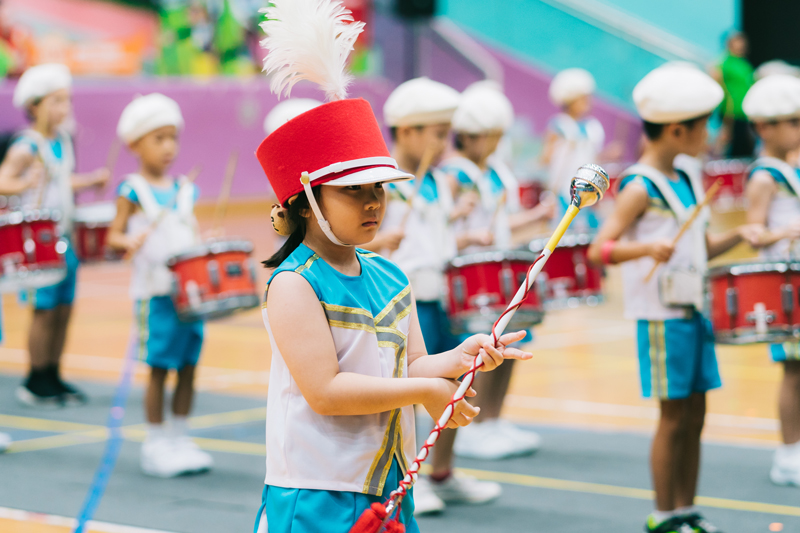 Home to Singapore's first and only preschool marching band, established in 2010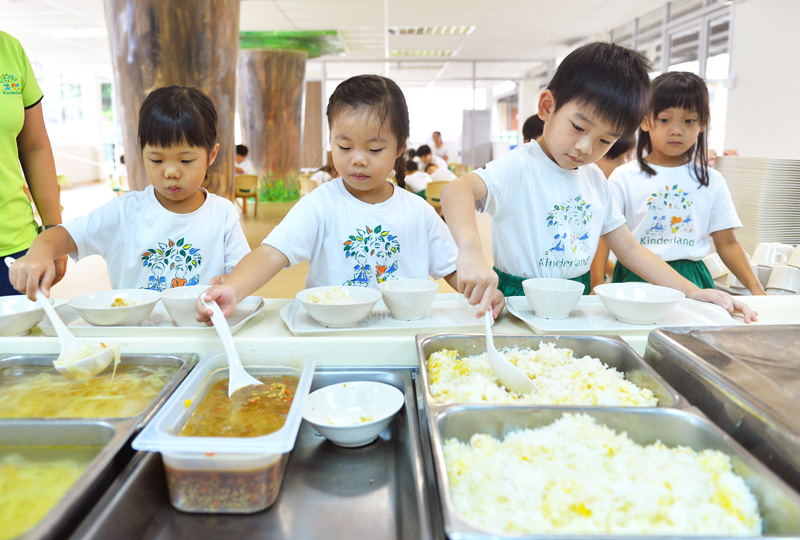 In the kitchenette, children pick up self-help skills by independently serving food to themselves
Imagine a place thrown back in time – removed from distracting hustle and bustle of the city. Where crickets chirp merrily. Little birds come to lay their rest. And just like the good old days, children can romp around freely.
Nestling on 12,140 square meters of fertile land, off the tranquil Yio Chu Kang, the recently renovated Kinderland Preschool offers a unique learning environment for your preschoolers – combining a high quality music-infused curriculum with rich outdoor experiences. They have their own vegetable plots butterfly garden and spaces to keep to little pets.
Exclusive to Kinderland Yio Chu Kang, the Naturescape Play Area brings learning outside classrooms which provides a unique and nature-rich learning for the children.
Kinderland Yio Chu Kang is also the home of Singapore's first and only Preschool Marching Band, and preschoolers enjoy the exclusive option to join the band.
Location Information
Address
:
449 Yio Chu Kang Road,
Singapore 805946.
Contact
:
6881 8818
Email
:
Please click here
Outdoor Areas
:
Sand play, Water play, Playground
Operating Hours
:
Mondays to Fridays – 7.00am to 7.00pm
Saturdays – 7.00am to 2.00pm
Programmes
| | | |
| --- | --- | --- |
| Programmes | : | Infant & Toddler Care, Child Care |
| Sessions | : | Half Day, Full Day |
| Level | : | Infant, Nursery and Kindergarten |
| Age Group | : | 2 months to 6 years old |
Enrichment Courses
1) English Speech & Drama
2) KinderArt
谢谢符老师! 感谢老师您对班上学生的爱和奉献。您帮助他们成长,非常鼓舞人心。教师节快乐!😍
Thank you dear Ms Carrie for being a warm and encouraging teacher. Kayler looks forward to your lessons and appreciates all the inspiring quotes that you have motivated her with! Happy teachers day!! 😍
I would like to thank all the teachers who have taught my son and daughter, Colby and Casey, in the developing years of their lives. They have been especially nurturing, kind and patient with them. Special shoutout to Ms Midah, Cai Lao Shi, Wang Lao Shi and Ms Hana! My kids have been very fond of them! Thank you to Ms Amy the principal for listening to and taking into action our feedback!
Thank you Ms Carrie and Fu Lao Shi.

Appreciate your excellent care of the kids. My daughter likes you a lot.
The Teachers have been excellent with my children (2 have attended the school so far) and are also very friendly and approachable to the parents. Thank you and happy Teacher's Day!
A big thank you to Ms Cai Yiping and Ms Mida for teaching and guiding Ray to be a good boy.
辛苦你们了。
王老师您好!祝你教师节快乐!谢谢您的教导!我觉得你很棒!
蔡老师您好!我祝您教师节快乐!感谢您的关心教导。我觉得你很棒!
Dearest Ms Mida,

Happy teachers' day! May God bless you! Thank you for teaching me. You are a wonderful teacher!
Dear Miss Mica, Ma Lao Shi and Zhuang Lao Shi,

Thank you for loving and caring for Tobias! He loves to share what he did in the day with you and I can tell from his expressions that he has enjoyed himself very much in school. He has been very vocal, compared to the time when he first joined a year ago and he will even initiate a conversation in Mandarin with me now.

Many thanks,
Sylvia
The teacher in this class is helpful and attentive esp when my boy transferred to the class in Q2 from Woodlands Civic Centre. Ms.Fu & Ms. Carrie went the extra mile by helping my boy to catch up in the academics as well as to gel in to the existing class.
Ms.Carrie will call and text me on my boy's progress during the first 2 months. Thank you for all the help! Happy Teacher's Day!
Dearest Ms Raihana / 王老师,

Happy Teacher's Day!! Zequn is very fortunate to have you as his English and Chinese teachers 👍 Thanks Ms Raihana for being so patient with Zequn 😀 Zequn seems to enjoy his school very much! 谢谢王老师这么关心泽群。。 希望你以后会有一个美好的未来 😘 Happie that Zequn could study in Kinderland.
Happy teacher's day to all our teachers
Heartfelt thanks to 马老师 and Ms Mica. Keep up the good work and smile always! Avery loves both of you very much.
Dear Ms Ding,

Thank you for your patience and dedication in making school enjoyable for Arthur! Thank you for being special, especially to Arthur! :)
Dear Ms Ding,

Thank you for all your passionate dedication and care you showered to your PN1 kids. Layla loves you :) I truly appreciate all that you do for her. Hopefully she gets to have you in next year as well!!!!
Dear Ms Mica,

We are extremely happy and grateful that you are Dylan's teacher. He absolutely adores you! Thank you for your dedication, your positive energy and your passion in helping to groom these young little tikes and princesses. Happy Teacher's Day!!
Thank you to Dylan's loving & caring teachers for making school fun for him!! Happy Teacher's Day!!
Ms Sharini is a dedicated teacher who shows passion towards guiding her students. She always delivers her lessons with creative ideas and builds good rapport with the kids as they are very close to her. Ms Sharini always puts on a very warm smile and is sincere in her interactions with the parents. Indeed, she is an exemplary educator and I am very appreciative of her being my son's teacher. Keep it up! :)
We would like to thank the teachers in Kinderland YCK for their dedication and love for our child. Especially for Ms Carrie and Fu Laoshi, my child enjoys school because of you and we would like to shout a big thank you for what you have done. You definitely make a difference in her life!
Dear Mr Kingston,

Thank you for your lesson yesterday. It was a very good opportunity for the parents to see how our kids behave in the classroom. Both Yong Zhi and I enjoyed your lesson yesterday.

Thank you and the school for ensuring that the learning of our kids is not compromised during this period.
谢谢张老师 for the CL lesson! Thank you for setting the rules and expectations for the children! It was very easy for Dionne to follow the lesson all by herself! She learnt by following what 张老师 was teaching! 👍👍 thank you so much for the orderly and engaging lesson! ☺
Overall, I think the lesson was good. The teacher conducted the class very well. My child enjoys the lesson especially when the teacher asked the children what appliances we watch "Spiderman" with. He was excited to answer "TV"! Good job to teacher and team!
The live teaching e-Classroom sessions are great! It kept my daughter busy and entertained. She was so happy seeing her classmates online. Thank you, Kinderland Team, for making great effort on e-learning. Stay safe and healthy!
Thank you for your commitment to the children. I must say Dylan truly enjoys his English lessons and he looks forward to it. I think half hour is a good duration.
Dear Ms Jasmine, 

Thank you for being such an inspiration to your staff and leading them forward to endeavour on in so many ways to continue teaching and reaching out to all of us at home in this less than ideal situation that we all are in now. 

My husband and I are truly touched by the warm dedication and commitment that Kayler's teachers have demonstrated during this circuit breaker period. 

Ms Carrie used different and interesting platforms and techniques to engage her charges and through it all, maintained positive and encouraging even when this charge of hers takes some time to adapt to this whole online learning situation. She also takes great effort to catch up with us parents and check in on how each of her dear charges are doing. Her love towards her pupils is truly heartwarming. 

Wang lao shi did a wonderful job of always smiling and being very encouraging in dishing out motivational comments for all of the children. She also makes effort to check on how everyone is coping online. 

Thank you dear Kinderland and Kay's amazing teachers! For doing your utmost best amidst these challenging times. Thank you for everything!