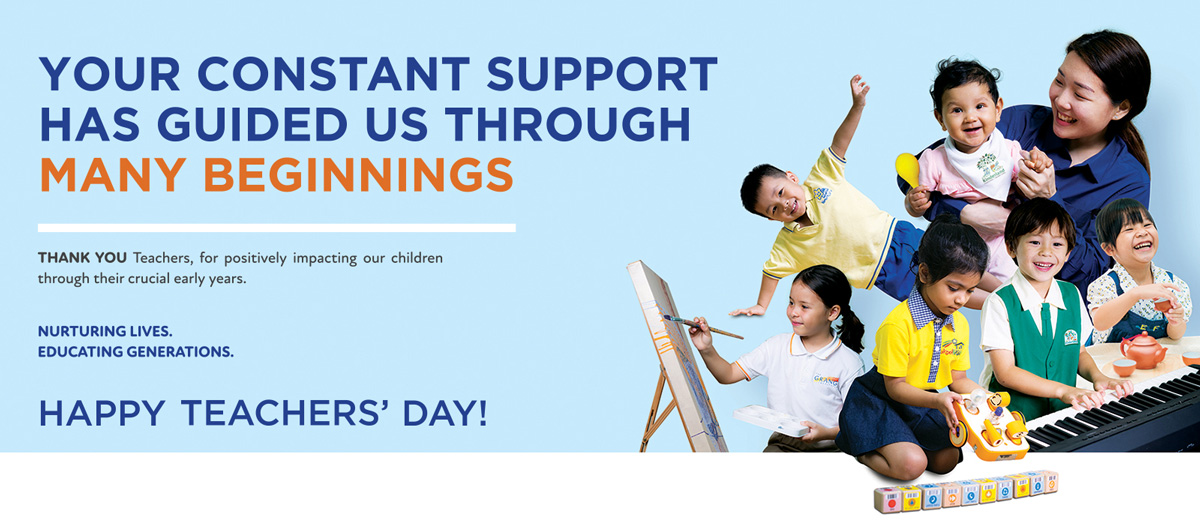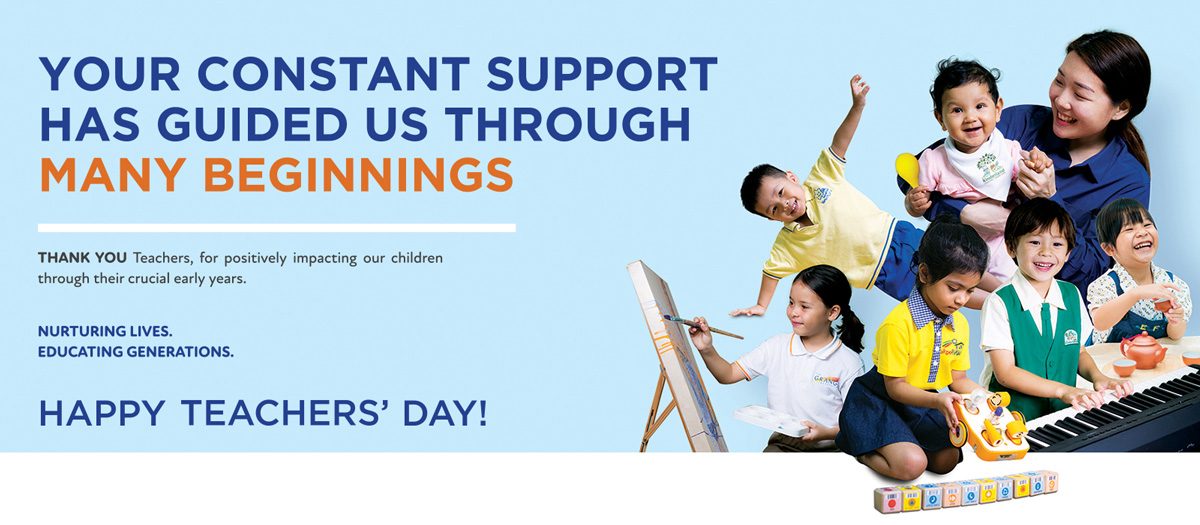 Please select your preferred centre for more testimonials
Thank you teacher Michelle for the encouragement and support for the past 1.5 months. Malcolm is now more willing to change his own clothes and take his own food by his own initiative.
We want to thank Teacher Marilyn and Sun for their efforts in teaching, supporting and nurturing our daughter. They are observant not only about our daughter's cognitive progress but her socioemotional progress as well.
Thanks for your motivation, inspiration, enthusiasm, and encouragement in school. We get all of them from you.
Happy Teachers' Day to the teacher who inspires Kylie & me to be better every day.
I really appreciate how she will share more about my child everyday when I pick him up. I can feel her heartfelt care and concern for him.
It's an amazing journey seeing him grow up with the guidance put by the teachers and non-academic staffs – Mrs Tay, Mrs Chua, Mdm Zhang, et al.
Now my little girl has become more independent, brave & cheerful. She enjoys every moment she spent at school with teachers & peers.
"Teaching kids to count is fine, but teaching them what counts is best." You have made such a positive impact on my child's life and I can't thank you enough.
"The mediocre teacher tells. The good teacher explains. The superior teacher demonstrates. The great teacher inspires." ― William Arthur Ward

We have many teachers but very few who are like you- a great teacher that inspires.
Thank you for being the calm and firm teacher whom JE looks up to, you have a wealth of knowledge :)
She's always seen with a big smile on her face and takes her work seriously.
She was the one who really takes good care of him, tried to understand him, in his character and habits. She's a patient and warm-hearted teacher.
We are so grateful that Bryn has a safe and fulfilling environment to spend his time. Thank you all for making a difference in our lives.
We truly appreciate all the hardwork, late nights effort, care, role modelling and guidance you've painstakingly showed us throughout.
Thank you Ms Daya and 林老师 for all the efforts in guiding Yan Rui in her school work! She always tells me that her best friends are the two of you!! :)
Ms Keith is a very passionate, patient and caring teacher. I'm very sure she teaches well because Katherine used to come home singing songs and reciting things that she learnt in school.
The boys still lovingly refer to school as "Ms Diana's house" and they looked forward to seeing you everyday.
She takes care of every babies like they are her own grandchildren and as parents, we can see how she loves the children and her job.
You are the spark and the guide to Jerald and his classmates in K1.
Thank you for being such an excellent educator, Madam Zhang! Our child may only have spent a few years in school, but we already realize that teachers like you are impossible to find.
Thank you so much for being such wonderful teachers to Bon. It is really nice to see how much he enjoys now going to school and we are really proud of how he develops. You are doing an amazing job and really making the difference.
You guys are fantastic, I see my boy mature and grow independent.
Above cognitive development, I appreciate that her mental development is also taken care of. She often seems happy after school and has never been reluctant to go to school.
Thank you Ms Eileen and Ms. Wang for being patient and taking care of Aaron. Accompanying him thru his nap, to teaching him on how to hold his pencil correctly.
Thank you for walking with me and not in front of me…
Thank you for taking such good care of Timothy this year. He looks forward to school every morning and his social skills have improved over time.
Braxton has been with the centre since he was 2 years old. From a shy boy, he has become very outspoken.
The school has a team of very dedicated Teachers who take great care to nurture the kids.
All the teachers in Kinderland @ Serangoon portrayed great team spirit and worked well together to care for all the students' well-being.
We thank you very much for helping us in this role of nurturing and educating our son, Franco. He is growing up to be a happy kid and always the eager learner. :)
He looks forward to school everyday and would sing a lot of songs at home which he must have learned in school. As working parents, we are very assured he is in good hands with caring teachers to mould him into a kind and spirited boy.
It is definitely not an easy task to teach children of such young age. Your love and commitment is really commendable.
Chong En language level has increased a lot, took home school textbooks can read fluently, thank you very much for TAN teacher.
It was sometimes easy but when it was hard, you rarely allowed it to show. If all the world could have your dedication, there would be more progress and more interest in education. Thank you for showing resilience in it all.
My girl always shares with me about the happenings in school and told me what her teacher did for them, such as tying her hair, bathing her, singing to her, praising her etc. I am glad to have made the right choice in sending my girl to Kinderland.
He now looks forward to go to school & shares interesting stories about school with us each time he reaches home. When you ask him about school, his big smile says it all.
I have noticed that the teachers teach with love, respect, patience and motivation. Keep up the good work!
I can tell from his expressions that he has enjoyed himself very much in school. He has been very vocal, compared to the time when he first joined a year ago and he will even initiate a conversation in Mandarin with me now.
The teacher in this class is helpful and attentive especially when my boy transferred to the class in Q2 from Woodlands Civic Centre. Ms.Fu & Ms. Carrie went the extra mile by helping my boy to catch up in the academics as well as to gel in to the existing class.
Ms Sharini always delivers her lessons with creative ideas and builds good rapport with the kids as they are very close to her. Indeed, she is an exemplary educator and I am very appreciative of her being my son's teacher.