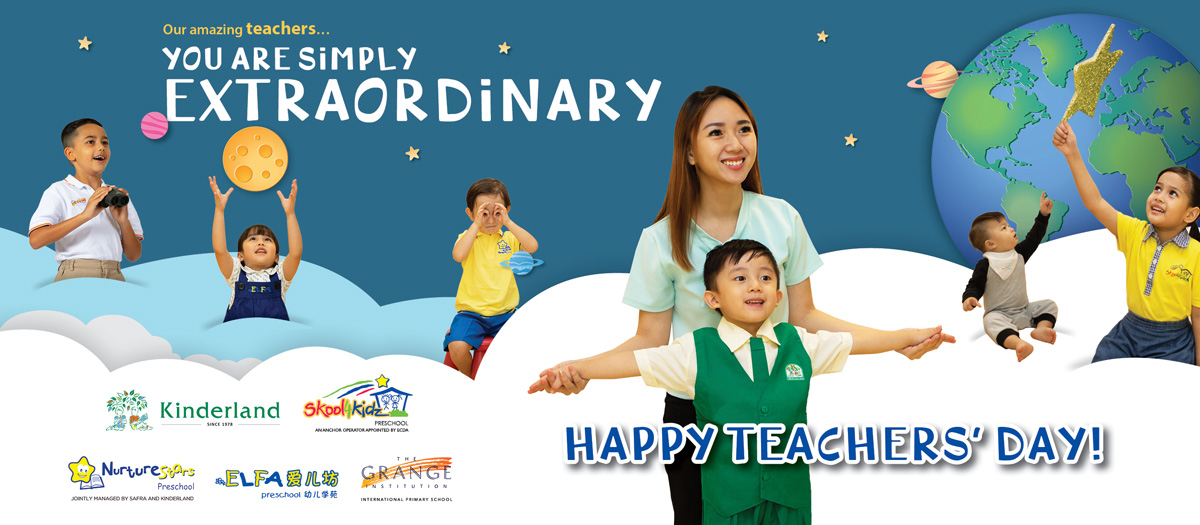 Download our exclusive Kinderland Teachers' Day sticker pack here! (Suitable for text messages, WhatsApp & Telegram)
Please select your preferred centre for more testimonials
I'm deeply grateful for all of Hanna's Teachers, they're contributing to my child's growth and emotional well-being. Thanks for making me feel comfortable being away from my child while at work and for caring for her beyond my expectations while I'm away.
And to Teacher Kamariah, Teacher Von, and Teacher Amy, thank you again for all your love every single day. 😍
Thank you very much, Teacher Pauline and Li Laoshi, for all of your patience and time. We have watched Lucas become more confident and strong during the last few months.
Each day, it seems like he always has something new to share.
Because of you, Mingze loves school and we cannot thank you enough for that !
Eliza is enjoying her current K1 experience due to the wonderful contributions from her teachers.

Teacher Priya and Zhang Lao Shi are truly exceptional, in that they are able to pace with the uniqueness of a child's needs and through their patience, the child is enjoying learning and developing her capacity for learning. Thank you teachers for your hard and heart work. Happy teachers day to both of you!
Although this is Sophie's first and last year in Kinderland, she really had a fun and enriching experience in Kinderland. She is always sharing with us the fun activities conducted in school. She is looking forward to attending school every single day. Thank you for conducting the zoom sessions during the circuit breaker. This year, all the teachers had a challenging job. It's definitely not easy but I must say, all the teachers in Kinderland did a fantastic job! The children had fun attending the daily online lessons. Thank you for the mask and small gifts given too. If there were no teachers, all other professions would not have exist! You will always be the child's hero! Happy Teacher's Day!
We would like to say a big thank you to the principal (Kinderland, sunshine place branch), Mrs M (teacher) , 李老师 (teacher) & all the staff of Kinderland. Thank you for providing a fun, loving & safe environment for my son, especially during this tough period, enabling him to continue learning in school. From the HBL lessons, we could see that they taught with love, passion & motivation. My son is enjoying so much in Kinderland that he comes home everyday feeling so happy! We are thankful for the teachers' dedication & for making a difference in his learning journey! Keep up the good work, Teachers! Happy Teacher's Day!
Leading institutions for Early Childhood development is not an easy task. However, Kinderland seems to be an exception, as their systems, process and dedicated staff have exemplary skills in childcare and early childhood development. My 5 year old son had to transition from his schooling in India to Singapore and I am glad that we chose Kinderland.
Heartfelt thanks to Team Kinderland and special thanks to Mrs Peh and the staff at Kinderland, Cho Chu Kang (Sunshine Place).
"The mediocre teacher tells. The good teacher explains. The superior teacher demonstrates. The great teacher inspires." ― William Arthur Ward

We have many teachers but very few who are like you- a great teacher that inspires.
Dayna has been in the capable hands of the staff at Kinderland Hougang since 5 months old, starting with full day Infant-care. Her transition to full day childcare in PN1 class this year was done under the caring and thoughtful supervision of both her Infant-carers and PN1-teachers. Many thanks to Ms. Maureen and Chen Laoshi for their tireless efforts during Dayna's Infant-care days, giving me and my husband absolute peace of mind to leave Dayna in their care. And much appreciation for Ms. Mei Xian and Liu Laoshi for continuing the same care and support for Dayna's development after moving up to PN1. Happy Teachers' Day to all of you!
"Teaching kids to count is fine, but teaching them what counts is best." You have made such a positive impact on my child's life and I can't thank you enough.
Thank you for the patience you display while teaching Bevis. Your inspirational words are like beautiful footprints that have been etched in the kid's hearts and mind forever.
We see how much Bevis has grown from when he first joined as a toddler to now that he is in K1; physically, knowledge and confidence wise.

Thank you for the guidance to Bevis and the never-giving-up spirit you all (teachers) have shown and influenced on the kids.

This year has been a little more challenging with Covid 19 situation, however the spirit of an educator still shines!

Enjoy this special day – my family thank you so much for all your hard work and being such a Wonderful Teacher!
You are doing a fantastic job!

Happy Teacher's Day!
We would like to thank both teachers, Miss Huda & Wang Laoshi. Wishing Happy Teachers' Day !

It's their deep expertise combined with tangible love that is helping to build up Leonardo.

We can see daily improvements; languages, behavior & social attitudes.

The activities in school help him to further develop his mind.

Leonardo always calls his teachers' names several times in a day during weekends, and looks forward to be back in school the coming Monday.

A sign of unconditional love.

We would like to extend our gratitude also to the whole staff for their precious efforts during the health emergency that hit the country. They have done a great work to secure our beloved ones, and to keep the environment safe.

A sign of professionalism and dedication that we can't forget.

Heartfelt thank you again to all of you from our family wishing you Health, Love and Happiness.
I would like to thank Ms Cristine, Fu Laoshi and Ms Zyra for their relentless effort during the HBL period. I am very impressed by their efforts to prepare and organise the worksheets and art & craft materials nicely. It was not an easy period for them and they are able to display their professionalism in teaching the children. Javier and Jonas have grown tremendously under their teaching. In addition, I would also like to thank the rest of the Marine Parade Teachers for their love and care to my children. Lastly, also to thank the Cook aunty for providing such nutrition and tasty food. Both my children love her cooking.
We came to Kinderland in March of this year. Thanks Ms Serena and Ms Lin for helping my son to get used to school smoothly and have fun every day. Pre-school is an important stage for children. I am grateful to meet the kinderland education policy and the good teachers. Thank you for your continued support.
Kinderland is the 4th pre-school that Faith has attended.
Thankfully, this will also be the last before she goes into Primary school.

After attending Kinderland, Faith has become a much more confident, cheerful & lively person, much unlike the timid, quiet & introverted girl she was before.
Back then, she always seemed to look like there was something she wanted to say, but just couldn't/wouldn't (which was honestly very worrying).

Lucky for us, we found Kinderland (MOM) and I am not only thankful but also grateful beyond words to Kinderland for helping me by transforming Faith into the confident & bubbly girl that she is now. She is laughing so often and also constantly wears a smile now. ;-)

It is with deepest appreciation and even deeper respect that I say to them, "JOB WELL DONE Kinderland (MOM)! Keep up the fantastic work!"
To Ms. Daya & Laoshi,

Happy Teacher's Day to both of you.

May you both continue to be the children's light you've inspired and educate. We truly appreciate the time, effort and hard work you've poured within and beyond.

We would also like to say thank you to everyone in Kinderland @ MOM for continuing to be a warm place for the children to be in.

Many thanks.
We would like to extend our heartfelt gratitude to all the staff of Kinderland@MND – teachers, principal and admin staff. It must have been so tiring for them having to deal and adapt to the unforeseen circumstances. Be it preparing for HBL, making sure that the centre is clean and safe for all and kids are well and happy.

A big thank you to one and all! Thank you for helping to look after our kids and for being such great role models.

Happy Teachers' Day!
Happy Teacher's Day! Thank you Miss Fiona & Wu Laoshi for your dedication and love for the children. It has been a trying time during the circuit breaker period but Audree always looked forward to your classes, and participated enthusiastically. 谢谢你们一直鼓励麗宇, 耐心的教导!
Ms Diane and Ms Lee have been great teachers to our girl. I've seen how much she has grown to be an independent toddler, other than learning academically. We parents are also very thankful that the teachers and Ms Angie are very doting of the kids- always assuring us of our child's progress in school.

Special thanks to Ms Angie, Ms Diane and 李老师 for the dedication and love you have been giving to our child- ensuring that she grows well in a loving & caring environment. She looks forward to school every morning!
We really appreciate the teachers at Kinderland Pandan Valley for their patience, love and care shown to the kids. We wish them a happy Teacher's Day!
My son transferred from another school as we moved house. Very glad that we chose Kinderland ! He has been telling me that he loves this school more than the previous one and his teachers are nicer to him now. The teachers are really dedicated and we can all feel it! Thank you so much for making my son feel so welcomed and loved!!
The school's teacher is very kind and caring about children, my child loves to go to school everyday. Cheers to Teachers' Day!
We would like to express our thanks and gratitude to the team at Kinderland for welcoming Natalie and Melissa although they joined midway in 2020 and even experienced the circuit breaker.

We know Natalie enjoys her days in school as there is bound to be stories shared with us every day, be it crafts, play or knowledge. It has been tricky, but we are very thankful for what the school has done for all the children.

As we all welcome 2021, we would like to wish all at Kinderland a happy 2021. Stay safe, be healthy and positive.
We are so blessed to have Ms Tze Kee and 张老师 as Syen Yew's teachers. They are always loving, kind and approachable. Especially thankful for the home-based learning during Circuit Breaker period. Kinderland and teachers are very fast to react to the situation, and did not let it affect the children's learning. All lessons were conducted with love and hard work. We are grateful and enjoyed every lesson. Thank you so much! Happy Teacher's Day!
Maeve & Leia started infant care when they were 6 months old, and they hardly cried when going to school! It makes my heart break a little to not see them turn back to look for me when I drop them off at school, but I know that is because they feel secure, and are happy to be with you! Happy Teachers' Day!! You all are the most patient, most loving teachers I know!
I would like to express my gratitude to the Teachers in RH for taking care of my child. As a working mother, I feel confident that my child is in good hands and is engaged with a variety of activities in school. He always goes to infant care with a big smile and that is testament that he loves his daily activities in school.
We want to thank Teacher Corrine Tay and Fei Lan lao shi for constantly guiding our little Luke throughout. Even during the home-based learning period, they both ensured that Luke is participating actively in the e-learning. They always ensure Luke has opportunities to speak online. It was tough at the start of the e-learning for both teachers and parents, but both teachers made sure they reconfirm with us, parents, that the students had understood the lessons. They make time to call us if we need support.

Thank you for acting as parents in school for our kids. :-)
I would like to extend a heartfelt "thank you" to my daughter's teacher and laoshis – teacher Chloe, laoshi Tai and laoshi Xiao Ling. They put in a lot of effort and care into a job that is TOUGH! It makes us very happy to see our daughter excited to go to school. The teachers always take the trouble to share detailed feedback and also accommodate our requests, which goes over and beyond what is expected of them. We are glad to have our daughter learn and get nurtured in the care of such nice teachers. Thank you, once again :)
To all the warm and caring teachers, thank you for your genuine love for Claudia. She is growing up to be a happy and confident child under your guidance. I feel so assured to bring her to school every morning. I can't express my gratitude enough. Thank you!!!
Thank you to the dedicated teachers and principal Ms Malar at Kinderland for taking good care of the children. Special thanks also to my girl's form teachers, Teacher Shirly and Teacher Zhang for your kind guidance and care. Happy Teacher's Day!
My girl joined the Preschool at 18months. Never a day will she say she doesn't want to go to school. I give the credits especially to the school teachers. We are very appreciative of the love, attention and knowledge provided by the teachers. Thank you so much Teachers, you too deserve the best attention on this special day. Without you. The school will never be the same. :)
It is definitely not an easy task to teach children of such young age. Your love and commitment is really commendable.
We are thankful to have be in a school full of wonderful teachers and staff. They have been exceptionally helpful and caring towards the little ones and is always available to attend to their needs. All the teachers and staff regardless of class levels, are really helpful and patient towards every student. We are thankful to be in Kinderland Woodlands Mart. A heartfelt thank you from the bottom of our hearts and wishing all a Happy Teachers' Day!
My girl always shares with me about the happenings in school and told me what her teacher did for them, such as tying her hair, bathing her, singing to her, praising her etc. I am glad to have made the right choice in sending my girl to Kinderland.
My baby just joined Kinderland for less than 2 months and he has improved a lot ever since joining the school. He managed to sit on his own, crawl on his knees, and pull himself up now. He enjoys going to school and smiles happily whenever he sees the teachers. I'm so happy and grateful that the teachers put in so much effort to guide him. Thank you so much, teachers! Happy Teacher's Day! :)
Clover has been very fortunate to have Ms Carrie and Wang Laoshi as her teachers. She has progressed a lot ever since she joined the school this year under their care. We, as her parents, are very thankful for what the two teachers have done for her. They have been very caring yet strict in teaching the kids and we get updates on what we will need to help Clover in her learning journey. It's hard to find dedicated teachers who makes efforts for the kids and also show so much love for them. Thank you Ms Carrie and Wang Laoshi. Please continue to keep up the good work for the kids.
Dear Mr Kingston, Thank you very much for going the extra mile to produce interesting content for the children during circuit breaker. Your passion and enthusiasm as a teacher and your genuine love and care for the children inspires and can be felt by the heart. You have an amazing ability in handling the children, and Joshua has a great liking as you are such a fun and interesting teacher. Thank you for also inspiring him to pick up martial arts.
Dear Ms Kim & Ma Laoshi,
Wishing you joy and happiness, you are both amazing teachers. I learn a lot under your guidance, I learn to ride a bicycle, I learn to eat fruits, I learn to share, I learn to sit and listen, I learn to be more confident, and I learn to sing and dance on the stage.
I am deeply thankful that you are my teachers. Happy Teacher's Day!

Love, Nicole