Kinderland Ministry of Manpower [PRESCHOOL & INFANT (COMING SOON) – OPEN TO PUBLIC]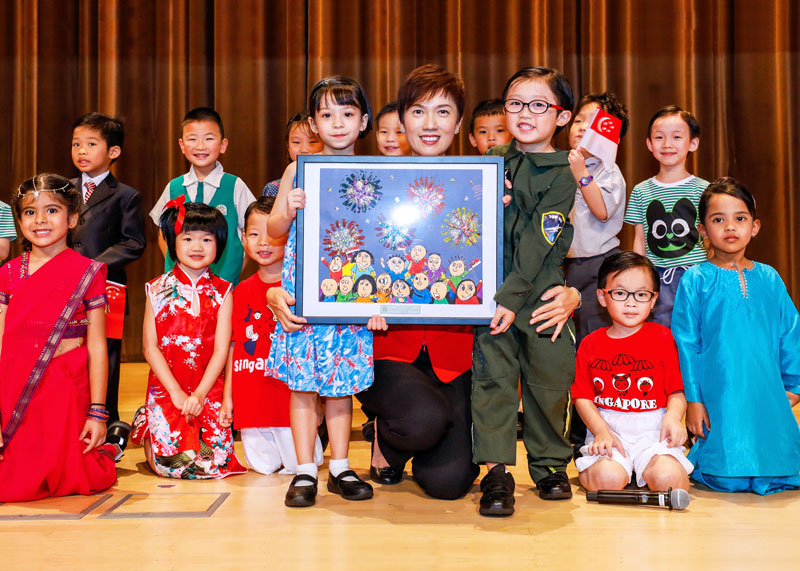 Kinderland Ministry of Manpower presenting Mrs Josephine Teo a token during their invitation to perform at MOM National Day Observance Ceremony 2018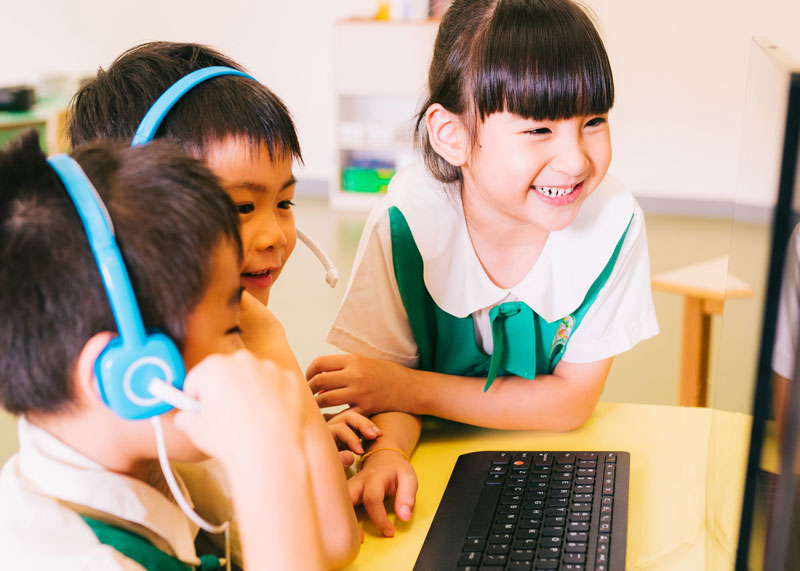 Computer centre open to children to explore technology freely with supervision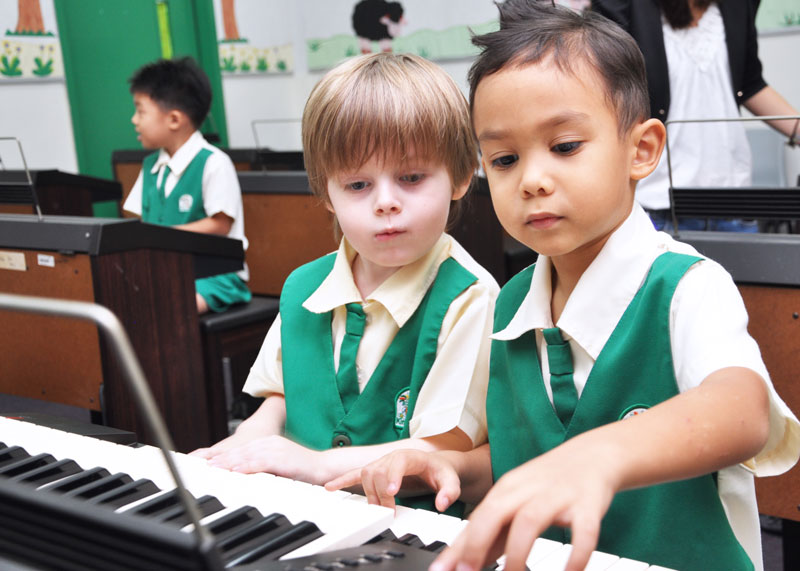 Neatly organised classroom with various learning corners conducive for learning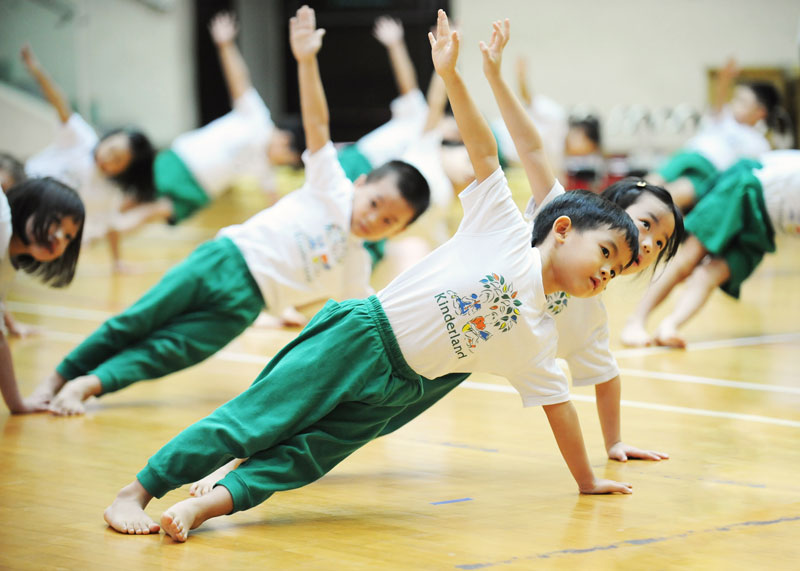 Vibrant classroom setting furnished with ample teaching materials to invigorate learning
Kinderland @ Ministry of Manpower provides preschool and childcare services located at most central and accessible part of Singapore – the District 1 Marina area. Here at our centre, we have a dedicated team of experienced and passionate educators who can help your child achieve big dreams. Our children also sneak opportunities to a luxury of an outdoor playground and be always thrilled by an indoor two-storey slide that plunges into a pool of balls!
Our preschool offers full-day programme for pre-schoolers between the ages of 18 months and six years old. If you are looking for a safe and jubilant preschool where your child will build fond memories with, then look no further and arrange for a centre tour with Kinderland @ Ministry of Manpower. Simply contact us and we will be here to take your queries.
Location Information
Address
:
18 Havelock Road, #01-18,
Singapore 059764.
Contact
:
6881 8818
Email
:
Please click here
Outdoor Areas
:
Water play, Playground
Operating Hours
:
Mondays to Fridays – 7.00am to 7.00pm

Please notify centre if you require childcare service on Saturdays from 7.00am to 2.00pm.
Programmes
Programmes
:
Infant & Toddler Care (Coming in early 2020), Child Care
Sessions
:
Full day (Mon to Fri: 7.00am to 7.00pm)
Half day (Mon to Sat: 7.00am to 1.00pm)
Level
:
Infant, Nursery and Kindergarten
Age Group
:
2 months to 6 years old
Enrichment Courses
1) Chinese Speech & Drama
2) English Speech & Drama
3) Children's Art
4) Music
Thank you Ms Daya and 林老师 for all the efforts in guiding Yan Rui in her school work! She always tells me that her best friends are the two of you!! :)

Thank you both for the patience and faith in her as well! Thank you very much! :)
To Feng Laoshi & Ms. Daya,

Happy Teachers' day to you! :)

Thank you for being a wonderful teacher to our daughter. We are certain she is lucky to have both of you to ensure her well being and safety in Kinderland @ MOM.
We truly appreciate all the hardwork, late nights effort, care, role modelling and guidance you've painstakingly showed us throughout.

May life give you bountiful happiness, wealth and health in return for choosing to be a teacher!

Many thanks,
Sikin & Ridz
Many thanks to Lin Laoshi, Ms Taya, Ms Michelle and all the other wonderful teachers in Kinderland – we really appreciate your efforts in teaching and taking care of little Chloe. It's not easy being a kindergarten teacher at all, and thank you so much for your care and great patience towards the kids.

Happy Teacher's Day, and love you soooooo much from Chloe!!
We are so grateful that Bryn has a safe and fulfilling environment to spend his time. This is all made possible by Miss Daya, Feng Lao Shi, Miss Michelle and Miss Joanna. Thank you all for making a difference in our lives. Happy Teachers' Day!

Sincerely,
Bryn 陈峋, Lewis and Melanie
Special thanks to Ms Adelene for bringing in Cookie Monster to the PN2 home-based learning on 17 April! Chloe was especially captivated when Ms Adelene told the story of the three little pigs. It is such a feat to manage the administrative side of the zoom meeting, do storytelling and yet capture the attention of the PN2 toddlers. Great job, and thanks a lot, Ms Adeline!

Thank you Feng Lao shi for your patience with the PN2 toddlers!  It is definitely not easy doing home-based learning, especially for toddlers this age. We truly appreciate your enthusiasm, as well as care and concern for the kids. 欣恩的老师, 加油!

Ms Daya manages her zoom meetings effectively and consistently, and can quickly establish a good rapport with the Nursery kids. We can tell from Ian's cheeky expressions that he enjoys his home-based learning with Ms Daya.

Thank you Zhang Lao shi for introducing musical instruments to the Nursery home-based learning on 16 Apr. This encouraged the kids to imagine and discover, and it means a lot to us to see Ian having a great time discovering what the 沙锤 can do.

Last but not least, many thanks to Ms Michelle for moderating the zoom meetings, and leading the PN2 and Nursery teachers in delivering the home-based learning. There is a steep learning curve to conduct zoom meetings and we see great team spirit amongst the teachers, so kudos to the team!
Thanks so much to the teachers for overcoming the IT difficulties and for preparing the slides at such a short notice. We are grateful that the little ones still get to have some classes to keep them occupied with the curriculum! :)
Ms Michelle, I would like to Thank You, Lin 老师 and Ms Serena for their teaching and guidance. The HBL is very fun and engaging. Vera enjoys her class so much! And has been looking forward to see her teachers and classmates everyday. Thank you!

Ms Michelle, thank you for organizing and sending us the zoom link and information before every lesson, it's been going well for 2 weeks! Thank you!
大家辛苦了!謝謝你們每天貼心的通知👍 每天都忙到這麼晚 非常感谢大家🙏 很開心有你們。請保重身体健康⭐️
Ms Lin did a fantastic job. She's very eloquent in her teaching and speech :)
Kudos to Ms Rachel, the online classes are getting smoother and better each day!
Just want to say a big thank you for continuing to prepare and teach the classes! Althea really looks forward to them, and is always happy to see her teacher and friends!

Do keep up the good work 👍🏻

Big shoutout to Althea's teachers, Ms Serena and Lin 老师 as well for being so engaging with the kids, even over Zoom!