Each year, Kinderland dedicates a day where the Kinderland family gather to celebrate its achievements and to catch a glimpse of what is to come.
This year, on 20th October, more than 350 Kinderland staff, partners and guests attended the event at Concorde Hotel to listen to the management updates, keynote presentations, awards, and participated in the learning booths.
The theme Better, Stronger, Together is a call for all to come together – to learn, share and bond towards a better and stronger Kinderland. The Kinderland family had the opportunity to connect with one another and shared their experiences while showing appreciation for their fellow teaching mates.
Continuous learning enrichment
During the event, Kinderland invited keynote industry speakers to share their knowledge and experiences with the team.
Notably, Dr Koh Noi Keng, Director, Centre for Financial Literacy, NIE with more than 17 years of teaching experience, spoke about seeking ideas and experiences that enable teachers to help children develop knowledge and skills to navigate the current digital age.  The talk centred not so much on IT skills, but thinking skills and attitudes to learning strategies that will bring them success.
A firm believer in technology, she embraces innovation and galvanises teachers in sharing generously as a networked learning community.
Classrooms of the future – Smart robots add thrill to literacy programmes
Kinderland will soon add new excitement to its Literacy through IT programmes for preschoolers with smart robots like Albert the School Robot and Go Robot Mouse. Both were popular 'playmates' for children at the "Technology" learning booth during Kinderland Day.
In line with Dr Koh's sharing, Information and Communication Technology (ICT) in early childhood education provides unimaginable possibilities for young children in teaching and learning; from simple everyday classroom learning to the process of inquiry through experimentation and exploration.
An award ceremony was also held to recognise the contributions of members of the Kinderland family. Awards were given out to staff who demonstrated outstanding performance in their respective roles.
Kinderland staff receiving various awards during the Kinderland Day.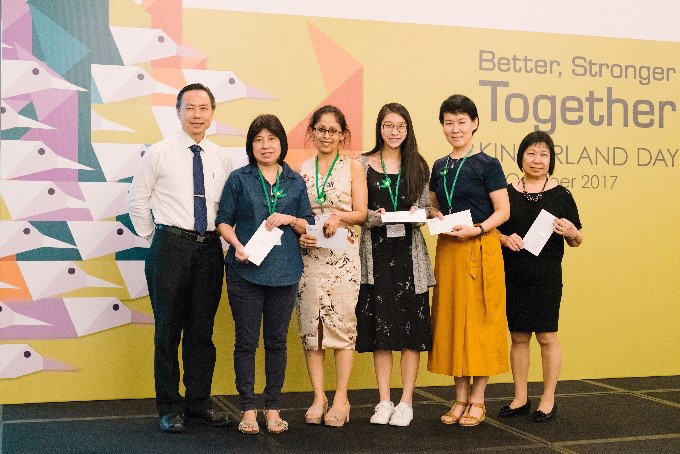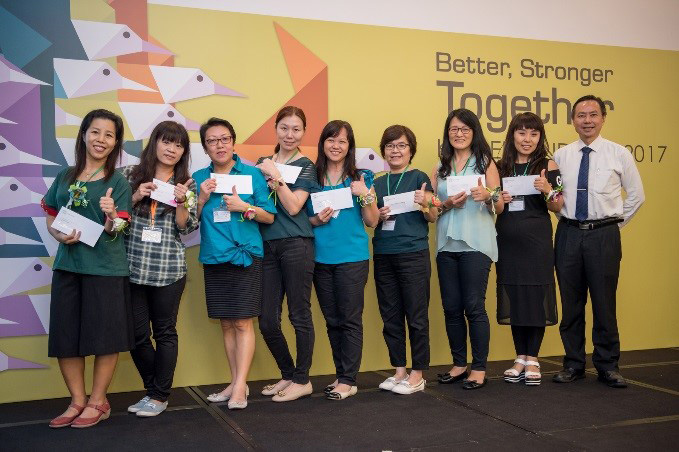 The day ended with much fun, laughter and joy as the Kinderland family comes together, Better, Stronger, Together.
Principals, teachers and staff dressed up to win the 'best dressed' competition against the various centres.