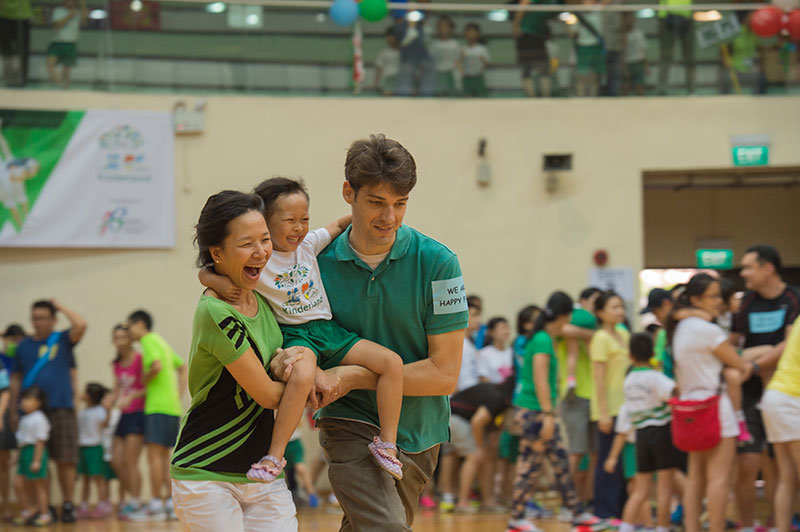 Kinderland's Sports Fiesta is one of the most exciting event held annually at the Toa Payoh Sports Hall. It is day for 450 children to get active and enjoy a little healthy competition, while building the bonding spirit with their parents and families.
In conjunction of SG50, we have chosen "Building A Healthy Generation For The Next 50 Years'' as this year's theme. This also supports the Health Promotion Board's 2020 vision of enabling every Singaporean with access to healthy living, by empowering our young children and their families to adopt sports. And through embracing sports, we will then be able to build a nation of healthy people.
The event began with captivating performances from Singapore's first and only preschool marching band established in five years ago. Eighty-one K1 preschoolers performed "Count on me, Singapore'' and did a spectacular formation that displayed the number 50, to mark the nation's 50th birthday. With some as young as 5 years old, having to perform, memorising the steps and creating formations, these were never an impossible tasks for them to handle. The band helps to hone many skills which enhances the positive self-esteem and confidence in them.
This year, we were very honored to have Mr Zee Yoong Kang, Chief Executive Officer of the Health Promotion Board (HPB) as our Guest-of-Honour to officiate the event. Kinderland has been very priviledged to have HPB 's support over the past five years.
In his opening speech, Mr Zee shared "Children are very lucky to have such a wonderful support from their parents and family, as they embark on the long journey through their education. The partnership between parents, schools and HPB is crucial in influencing our children to pick up healthy habits and behaviours as they embark on a healthy lifestyle." he added.
The Sports Fiesta had games and activities that were organised to instill interest in a healthy lifestyle and also fosters greater bonding between our children and their parents.