This year, Kinderland celebrated Lunar New Year with seniors at the Lions Befrienders centre in Ang Mo Kio. On 18 February 2019, 60 children from across three Kinderland centres – Ministry of Manpower (MOM), Woodlands Mart and Revenue House – put on performances for the seniors to share the joy of the festive season.
The outreach program marks our inaugural partnership with Lions Befrienders, a social service organisation that help the seniors to age in place. To show our support for the seniors, Kinderland raised $17,409.47 at the Kindness Carnival last year for the Lions Befrienders activity fund.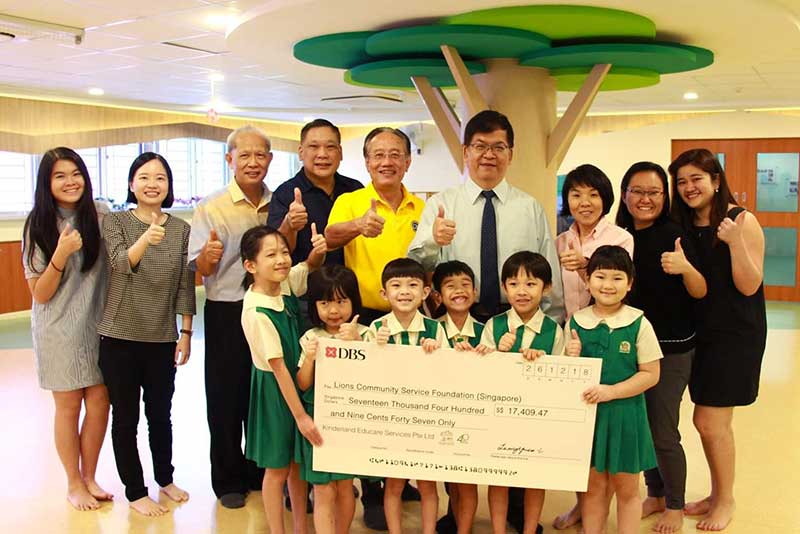 Championed by Ms Patricia Tay, Senior Principal of Kinderland, this outreach program is an extension of "Start Small Dream Big" (SSDB), a President's Challenge Initiative that Kinderland participates annually to encourage pre-schoolers to make volunteerism a way of life.
In line with this year's SSDB theme on kindness, Kinderland hopes to inspire our young ones to contribute towards a culture of kindness through simple everyday acts of care and kindness. With this outreach, we wish to provide our children with the opportunity to befriend the elderly, learn the values of respect, and build self-confidence. This outreach also offers our non-Chinese children an inter-cultural learning experience as they expose themselves to the festive season and multi-racial landscape in Singapore.
Our children from Kinderland Ministry of Manpower, donned in red cheongsams and attire, opened the day's program with their performance item. To celebrate our roots in language development, we had a pair of student emcee to greet the seniors in Mandarin.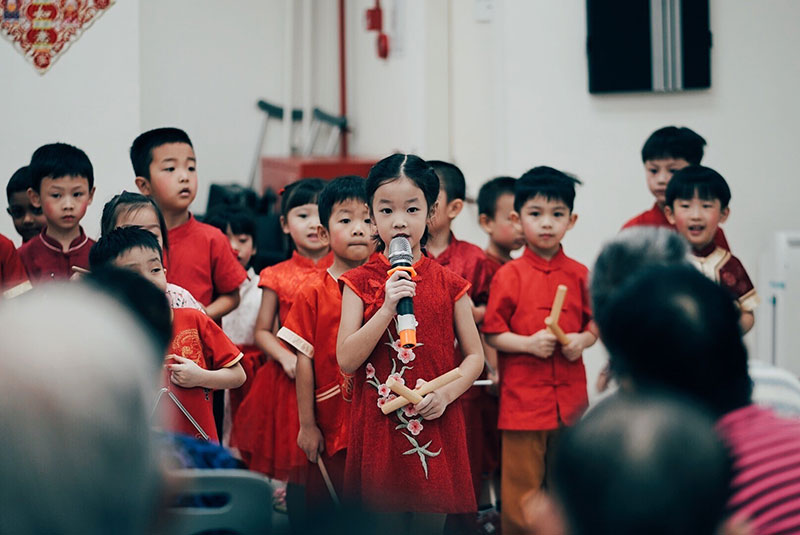 When the music of Ying Chun Jie Fu (迎春接福) started playing, our children started singing and dancing to the festive song. The celebratory ambience grew even stronger when the enthusiastic seniors joined the dance, rolling their hands up and down, left and right.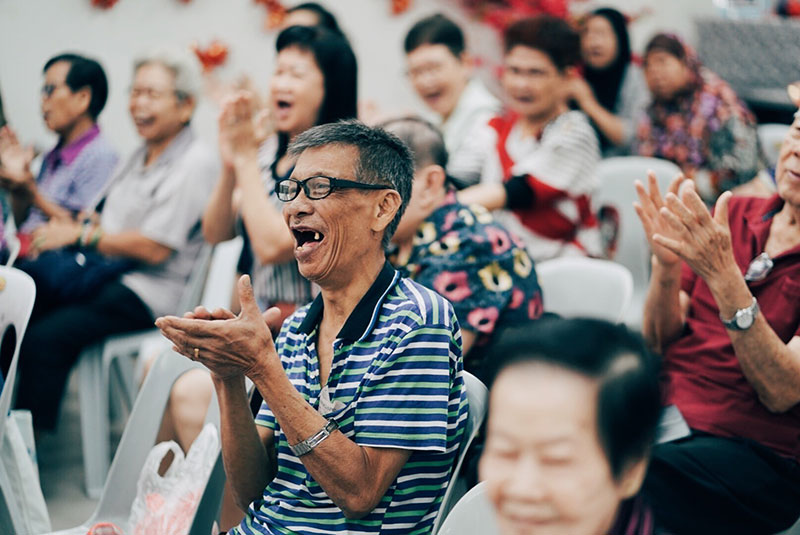 The next performance item was a musical-cum-dance item by Kinderland Woodlands Mart. Our children demonstrated their musical abilities as they performed with the hand bells, triangle, hand drum and rhythmic sticks to the music of Xin Nian Niu Yi Niu ( 新年扭一扭). They also danced to the music with a hula-hoop prop that the children designed on their own.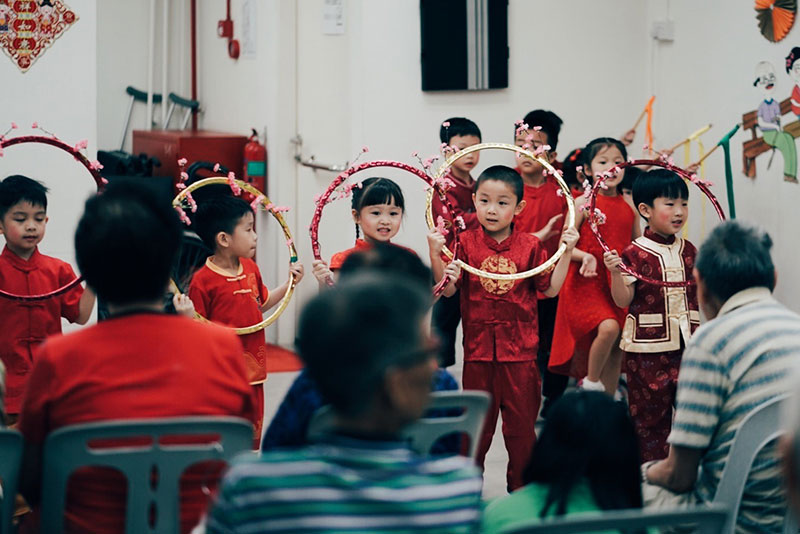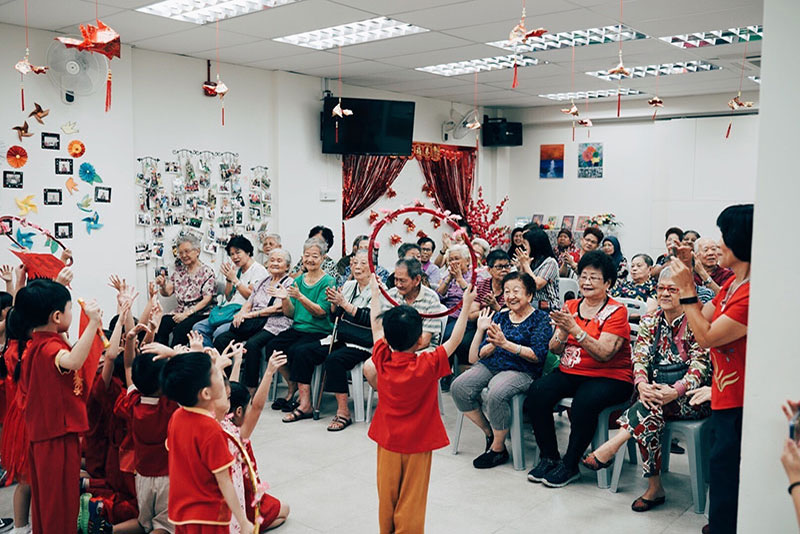 After which, our children from Kinderland Revenue House sang to the tune of He Xin Xian (贺新年) and ended with a string of Chinese New Year Greetings to wish our seniors good health, wealth and fortune.
The finale to the day's program ended with the seniors sitting together in a circle, and one by one, our children took turns to shake hands and greet the seniors. The one-on-one interaction brought joy to the seniors, many of whom showed their affection to our children.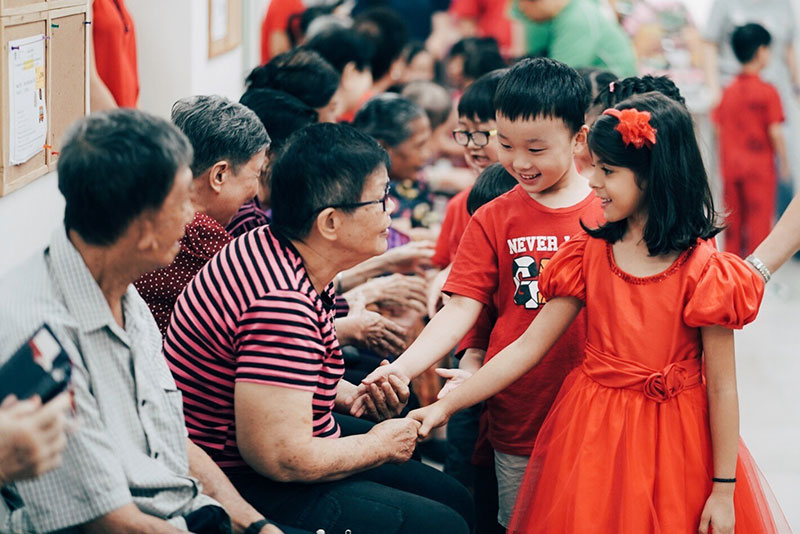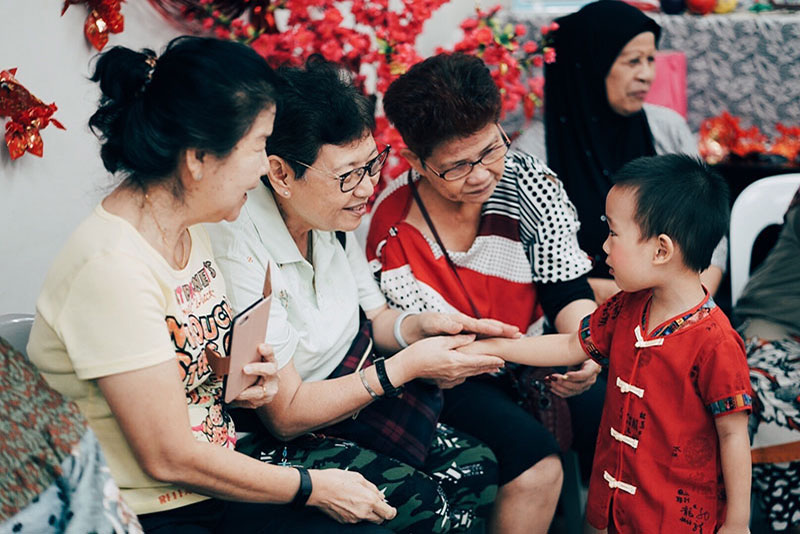 Pusperrani, a 66-year-old senior at the event, was one of the seniors who enjoyed herself. With a soft spot for children, she hopes that our children will continue to visit the seniors and spread joy to them.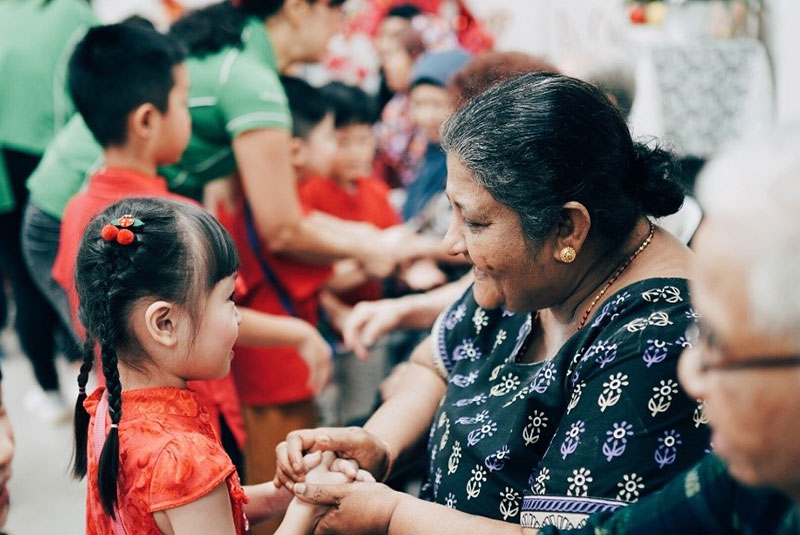 Before we ended the day, our children and teachers presented an art piece to Lions Befrienders as a token of appreciation. The art work, handcrafted by our children, is a culmination of their hard work over several weeks.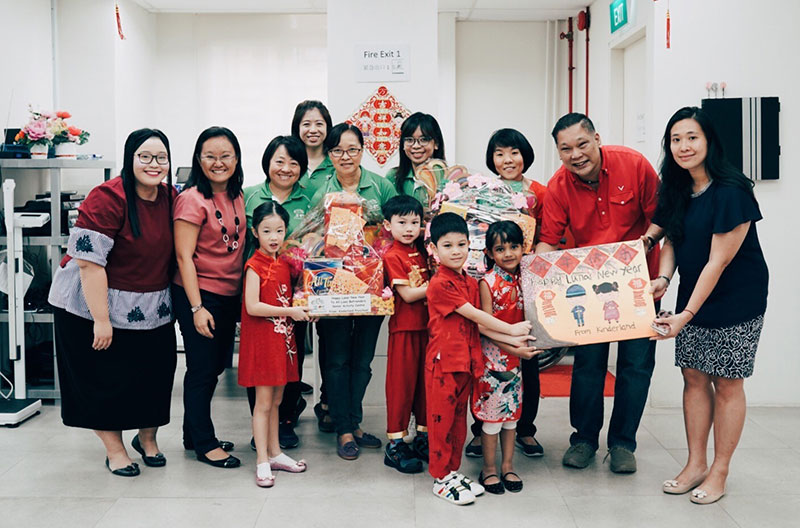 This outreach program in partnership with Lions Befrienders is one of the many character development programs at Kinderland. Other initiatives include 'Grandparents Branding Day @ Kinderland Chua Chu Kang' which aim to forge inter-generational bonding and inculcate values of respect to our children.
It is our hope that our children will grow into all-rounded individuals who spread kindness and compassion to their loved ones and the people around them.