Technology is a boon and a bane. On one hand it has ensured that children's learning and activities did not come to a complete standstill during the pandemic. On the other hand, what started as an alternative to make do during the pandemic has become a commonly seen option to entertain children in the new normal and we are now living in a highly screen-reliant era. Based on a recent research, children are spending much more than the recommended screen time for their age and that is a problem. Kinderland Preschool and Infant Care ensures that your child is learning actively through both indoor and outdoor play!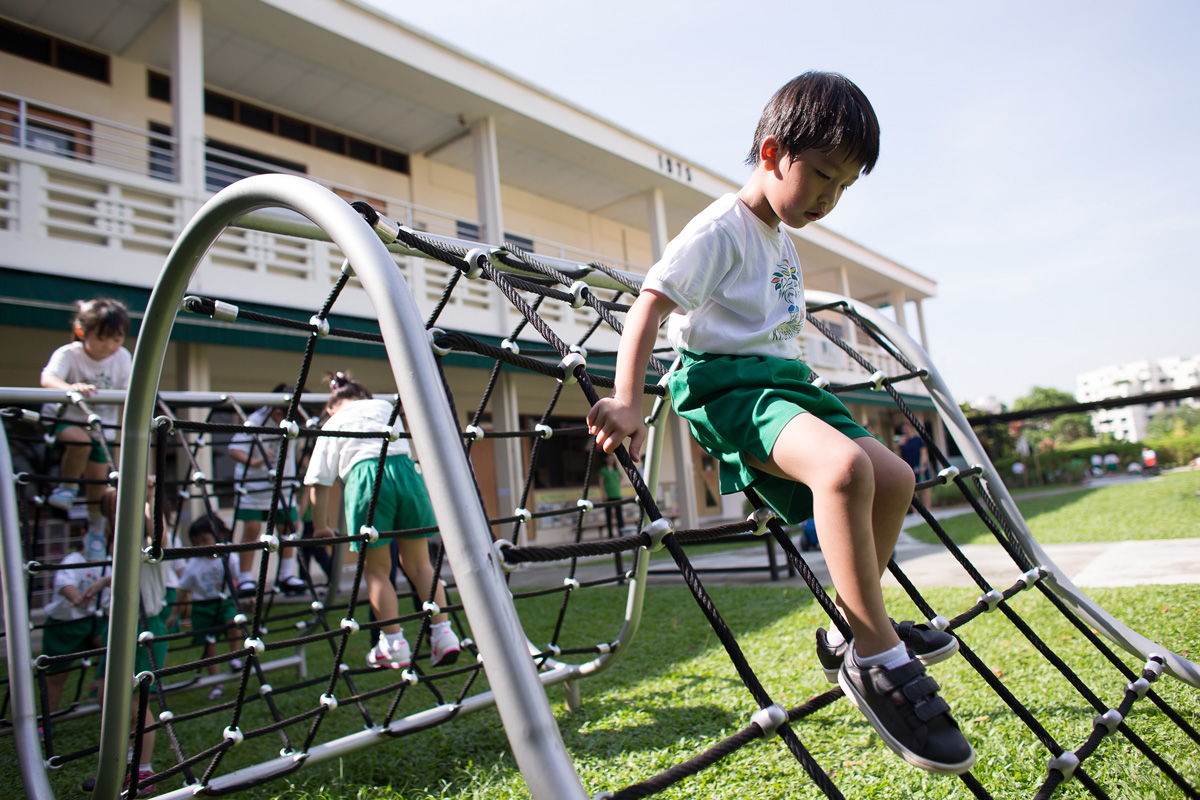 Pandemic Problems – Too Much Screen Time for Children 
Did you know that due to the pandemic, there has been an exponential increase in screen time for children? In fact, the latest study by the National Institute of Education (NIE) reported that children between the ages of two and six have increased their screen time by 23% during the pandemic. They now spend an average of 2.15 hours a day, which is more than double the World Health Organisation (WHO) recommendation of no more than an hour a day.
There are many reasons for this – home-based learning, enrichment lessons being shifted online or parents working from home and trying to keep their children entertained with screens.  Even without the pandemic, screen time has become the resident babysitter in many households.
On the contrary to the increasing screen time, total physical activity time for pre-schoolers fell by 10 per cent to 2.25 hours compared with previous studies before the pandemic, as reported by The Straits Times. This duration is shorter than the recommended of three hours of physical play that WHO recommends.
Of the three hours of play, WHO advises that one hour should be energetic play outdoors, yet more children are not meeting this guideline, especially so, during the pandemic.
Unfortunately, this is detrimental to children. The same study found that higher amounts of screen time negatively affect cognitive development in children. Not forgetting that it causes them to increasingly live a sedentary lifestyle which goes against a child's natural inclination to be exploring their surroundings and being out and about!
That is why at Kinderland Preschool and Infant Care, we believe in the importance of off-screen activities. Here is how we infuse it into our curriculum!
Three Big Benefits of Off-Screen Activities
1. Ignite the Spark of Curiosity
You know what they say – it only takes a spark to get the fire going. The world around us is wide and wondrous and there are just so much for children to explore and discover. Children can learn by exploring their surroundings through quizzes, games and a myriad of activities that do not involve screens.  At Kinderland, we firmly believe that children approach the world with wonderment and awe. They are curious and self-motivated to seek answers to their never-ending questions, so long as we give them the right nudge.
When children get off screens and actively explore their surroundings, it heightens their natural sense of curiosity and boosts their inquiring mind. This is one of the best things about being a child and we must not allow too much screen time to break this momentum of learning.
Children need ample opportunities to learn and discover. Indoor and outdoor, there are plenty of activities that widen children's imagination and enhance logical thinking. These include the simplest of things like playing hide-and-seek, reading, solving puzzles, drawing and colouring, trying their hands at origami or exploring nature as well as elaborate learning opportunities through learning new life skills such as baking and cooking.
Such activities spur the cognitive development of young children and allow them to think, process and articulate their thoughts. It also hones their problem-solving skills and most importantly, paves the way for them to socialise with others and build their emotional intelligence.
At Kinderland, we ensure that your child has plenty of opportunities to experience all of these. Our time-tested curriculum covers the six developmental domains identified by the Ministry of Education (MOE). We have a myriad of activities and programmes to ignite your child's spark of curiosity, including our time-tested music-infused curriculum. Read more about it here.
2. Less Screen Time for a Healthier Child
It is rather worrying that children of today are getting better at playing games virtually than in real life. Too much screen time makes them lead a more sedentary lifestyle which can only be detrimental to their health, fitness, and overall development.
Exercise is crucial for a child's developmental growth. The more active they are, the stronger they become, for exercise helps to build their muscles and bones. Furthermore, physical activities are ideal for developing their fine and gross motor skills. Through hands-on activities, children become nimbler with their fingers and build strength in their muscles. All of these instil in them a greater sense of confidence and overall well-being.
Because we recognise the importance of physical activity for children, our KinderFit Cardio-Fitness programme is specially designed to optimise the physical development of young children. Children in our school are exposed to 50% more physical activity than their peers. In addition to exercising, Kinderland's certified in-house Nutritionist designs the menu, with every ingredient carefully calculated to provide the right amount of nutrients that is needed for your child's rapidly growing body. We ensure our children have proper eating and healthy lifestyle habits. Through Kinderland's programme, our children have displayed what they learnt in school at home. Your child will understand that when they have sufficient exercise, rest and a balanced diet, their heart will work better!
3. Off-Screen Activities Benefit the Eyes
There is no running away from the toll that increased exposure to screens is taking on our children's eyesight. Therefore, it is more important now than ever before, to balance out the time they spend on gadgets with outdoor playtime.
The Early Childhood Development Agency (ECDA) requires all pre-schoolers to be exposed to at least an hour of outdoor play daily. As shared by Beanstalk, outdoor play delays the progression of myopia as sunlight triggers the release of dopamine from the retina, which in turn lowers the risk of myopia. Being outdoor also means that children have more opportunities to allow their eyes to focus on things that are far away.
To motivate our children to do this, Kinderland encourages our children to play games such as 'catch', bird spotting or 'I Spy', all outdoor. This is in addition to running, jumping, climbing, stretching, and balancing. We hope that parents, too, will find opportunities to do this with your children for what better way to bond than having some outdoor fun?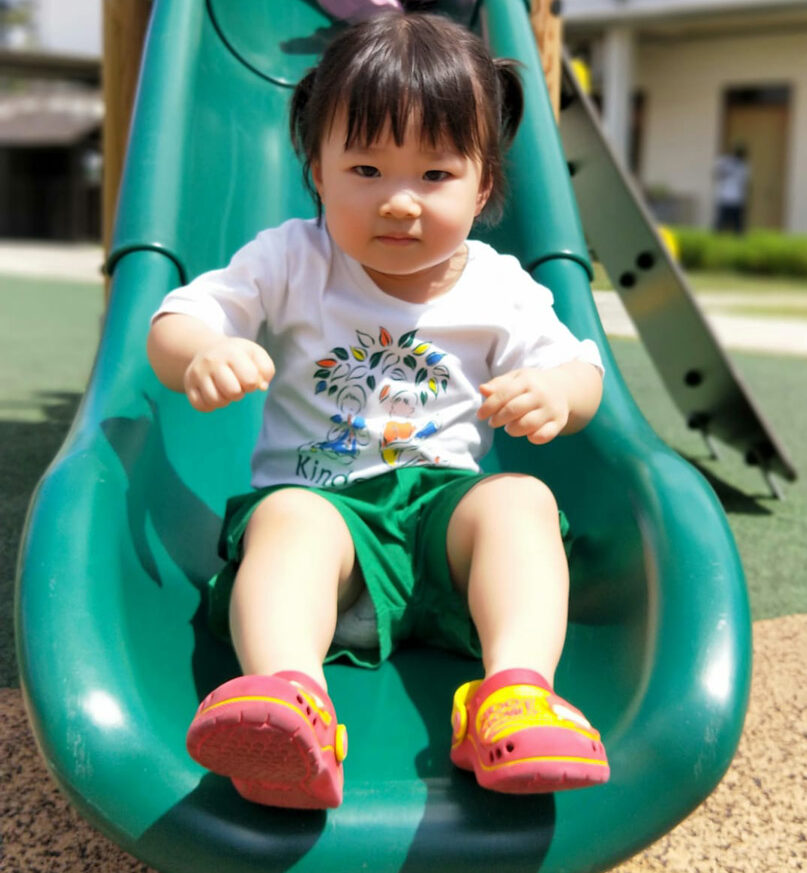 While we speak of the benefits of off-screen play, we do understand that given the demands of the daily grind, you may have to resort to screens more than you would like to. But you can be rest assured that at Kinderland, we provide ample opportunity for your infant or child to engage in off-screen activities. Our curriculum and programmes act as a strong foundation for your child's life, and we aim for our students to be curious, creative, capable, confident, caring, and communicative.
If you would like to know more about our infant and preschool programmes and curriculum, do contact us to speak with our experienced centre leaders. We look forward to welcoming your child and igniting the spark that leads to a burning desire to explore and learn!
References:
This article was first covered on The Asian Parent.