Did you know that Lunar New Year is celebrated differently in countries across Asia? People in Vietnam, Korea, and Japan celebrate this festival according to their own customs and traditions.
In Japan, it is called Setsubun, also known as '節分', and it is normally held on the 2, 3 or 4 of February every year. Similar to the Chinese legend '年', where villagers chased a monster away with bright lights, red coloured items and loud noises, the Japanese would throw roasted soybeans to drive away the demon, Oni, '鬼'.
As Lunar New Year is on 2 February, our Japanese students at Marine Parade celebrated Setsubun last week.
To perform the ritual, the children sang a song, and some of them pretended to be the Oni, while others practised throwing soybeans, Fukumame, at them, shouting "Devils out! Fortune in!" ("Oni wa soto! Fuku wa uchi!") Traditionally, this is called 'Mamemaki' which means to get rid of demons by throwing soybeans at them and bring in good luck for the new year. After the activity, the children brought the demon masks back home and carried out the ritual with their family at home.
日本語プログラム@キンダーランド幼稚園
旧正月は、アジアの色々な国でそれぞれ違ったやり方でお祝いされることを知っていますか?ベトナムや韓国、日本には、それぞれの伝統的な旧正月のお祭りがあります。
日本では、「節分」と呼ばれる行事を2月2-4日の間に行います。中国の人々が赤い物を身につけ、光と大きな音で怪物を追い払うのと同じ様に、日本では炒った豆を投げて「鬼」を追い払ます。
今年の節分は2月2日でしたが、マリンパレード校の日本人園児達は、その日に節分行事を行いました。子供達は鬼の役と豆まきをする役を交代しながら、「鬼は外、福は内」と元気よく豆まきをしました。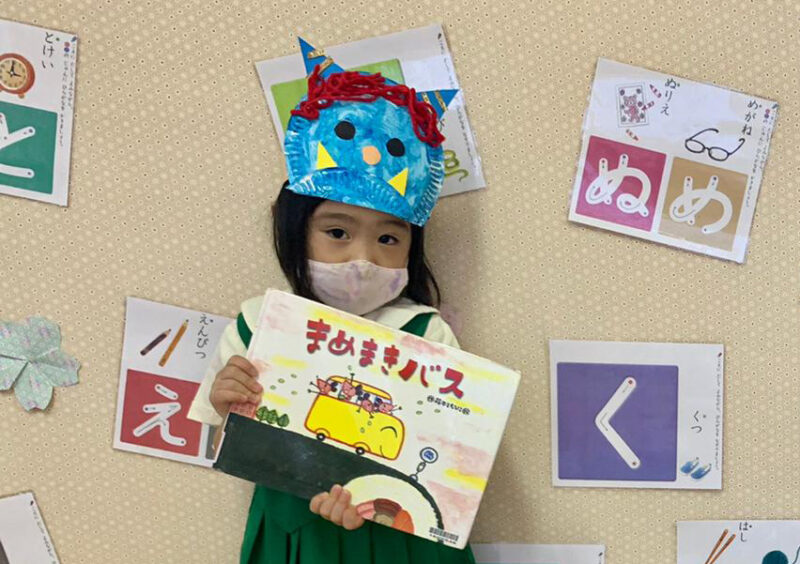 This activity is to help our Japanese children to be more in touch with their culture and roots. As part of the curriculum, they get to learn more about Japanese culture and its history during classes by participating in seasonal events and craft-making.
Our bilingual program also includes English and Japanese language classes, music lessons, reading and writing with a multi-sensory IT software, and a KinderFit Cardio-Fitness program. With our comprehensive curriculum, children can learn new knowledge and develop cognitive skills under the guidance of qualified teachers.
季節の行事に参加したり、工作をしたりすることで、子供達は日本の文化や伝統、歴史をより学ぶことが出来ます。また日本人としてのアイデンティティを培っていきます。

私達のバイリンガルプログラムには、英語・日本語クラス、音楽レッスン、ITプログラムを使った読み書き、キンダーフィットプログラム(幼稚園児向け有酸素運動)が含まれます。これらの総合的カリキュラムでは資格ある教師の指導のもとで、子供たちは新たな知識を身につけ、学習意欲を高めることができます。
Here is what you need to make your own demon mask.
Materials Needed:
Paper plate
Some coloured paper
Yarns
2 strips of card-like paper
Decorative ribbons or embellishment
2 rubber bands
Scissors (suitable for children)
Toxic-free glue
Toxic-free poster paint
以下は、節分の鬼の面の作り方です。

必要なもの:
紙皿
色つきの紙 数枚
糸
厚紙でつくった2本のひも
飾り用のひも、もしくはリボン
輪ゴム 2本
はさみ(子供用)
子供用のり
子供用ポスターカラー
Steps:
ステップ
Use a base colour (red, blue or yellow) for the Demon face.
鬼の顔の色にはベースの色(赤、青もしくは黄色)を使います。
Fold the bottom tip of the paper plate and paint the colour you have chosen on one side of the paper plate.
紙皿の底の部分を折り、1で選んだ色を紙皿の片方の面に塗ります。

Cut out your desired demon features such as the eyes, nose, fangs, horn and hair.
目や鼻、角、キバ、髪の毛等の鬼の顔のパーツを切ります。
Paste the cut-out features on the paper plate.
3で切り取った顔のパーツを1の紙皿の上にのりでつける。

Interlink the 2 rubber bands and attach the paper strips on each side of the rubber band. Then, attach the paper strip to the back of the mask.
2本の輪ゴムを結び、輪ゴムの結び目と反対側を厚紙でつくった2本のひもとそれぞれくっつけます。その厚紙のひもを、鬼の面の後ろ側につけます。

And you are done!
できあがり。