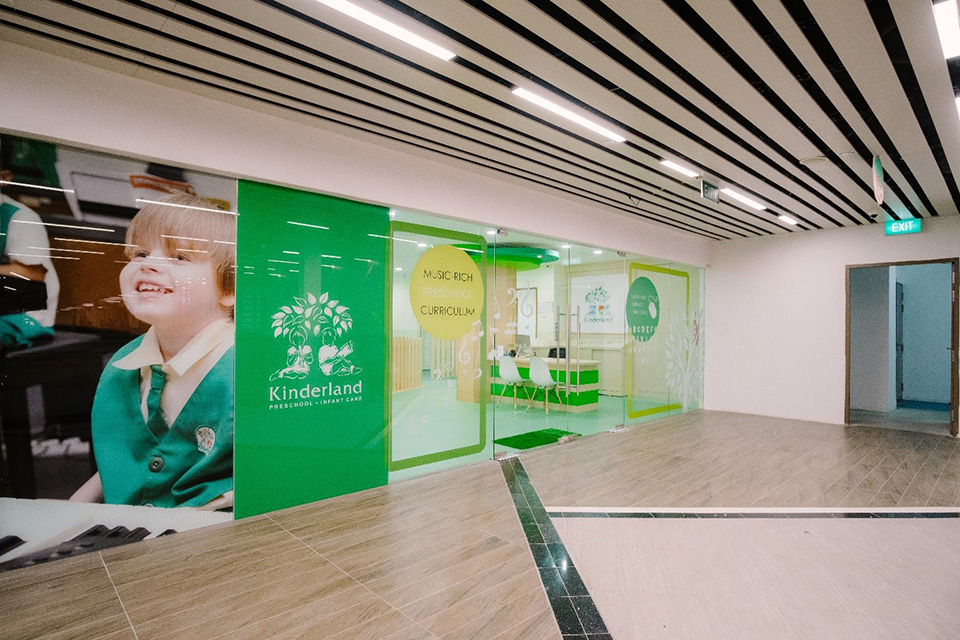 Kinderland Loyang Point reopens at Pasir Ris following the heartland mall's brand new facelift. With an impressive space spanning 450 sqm, the centre can accommodate close to 100 preschoolers. The centre also offers infant and childcare services to cater to the needs of children as young as 2 months old. It is conveniently located within the newly renovated HDB mall where parents can easily pick up and drop off their children every morning.
The centre is designed to reflect Kinderland's refreshed corporate identity. Facilities aim to complement various student activities and engagement such as a well thought out transition area that allows preschoolers to connect situational learning with what they learn in the classrooms.
The new centre provides a conducive learning playground for Kinderland preschoolers.
All our classrooms are fully equipped to make a child's learning fun, joyful with plenty of opportunities to explore.
Kinderland Loyang Point is now open for 2018 enrolment. Contact us today at 6881 8818 to find out more!
LOCATION INFORMATION
Address
:
258 Pasir Ris Street 21 #02-23, Loyang Point, Singapore 510258
Contact
:
6881 8818
Email
:
enquiry@kinderland.com.sg
Operating Hours
:
Mondays to Fridays – 7.00am to 7.00pm
Saturdays – 7.00am to 2.00pm
PROGRAMMES
Programmes
:
Full day (Mon to Fri: 7.00am to 7.00pm)
Half day (Mon to Sat: 7.00am to 1.00pm)
Level
:
Infant care, Pre Nursery to Kindergarten 2
Age Group
:
2 months to 6 years